In 2017, we decided to make an incredible trip : The Burning Man.
To go there, you need to prepare yourself well ! After 5 hours of shopping and groceries, we eventually arrived at Black Rock City (Nevada, USA)
Here it's dark now. There are thousands of camping-cars here, each dustier than the other. In our case, we try in vain to close our van's doors to avoid bringing dust inside, but without much success.
Welcome to the Burning Man.
An ephemeral city in the desert.
A community of dreamers and doers.
An unique experience.
What is Burning Man ?
Around 70'000 burners met in 2017 to experience a whole week in the desert, where you need to bring your own food and beverage.
This city tries to prototype a new way of living in society, where money is prohibited, creativity is at its full potential and participants are welcome to express themselves.
Burning Man is not just a festival, not a party.
You do not come here as if you were in a concert : you are welcome to participate in the experience, as strange, dusty and amazing as it can be.
A week in Burning Man means embrass the 10 philosophical principles of this event : everyone is welcome, everything is donation, we live in the present, everybody participates and express themselves, nobody judges, earch participant is autonomous, respect the environment, the desert and when people want to hug you.
A inhospitable desert, where differences (young, less young, famous CEOs of Silicon Valley, families) make one to co-create a libertarian city.
The Innovators of the Desert
In this transcendent experience, art, lightning, costumes (or no clothes as well), futuristic vehicles, temples, steampunk style, etc., everything can be stimulating.
And the makers from all over the world (architects, choreographers, musicians…) hang out together to re-conceive the world the way the imagine it.
Everything is here, nothing is impossible, or almost.
During the Burning Man, you can :
participate in conferences (Humans 2.0, AI, psychedelics and innovations, etc.)
conceive your survival kit
take Tango classes
eat heaps of candies
run an ultra-marathon
follow accro-yoga classes
participate in conferences on the future of humanity
etc.
A perfect mix to be imaginative. Hundreds of unique activities are organised every day by each participant and for all the participants.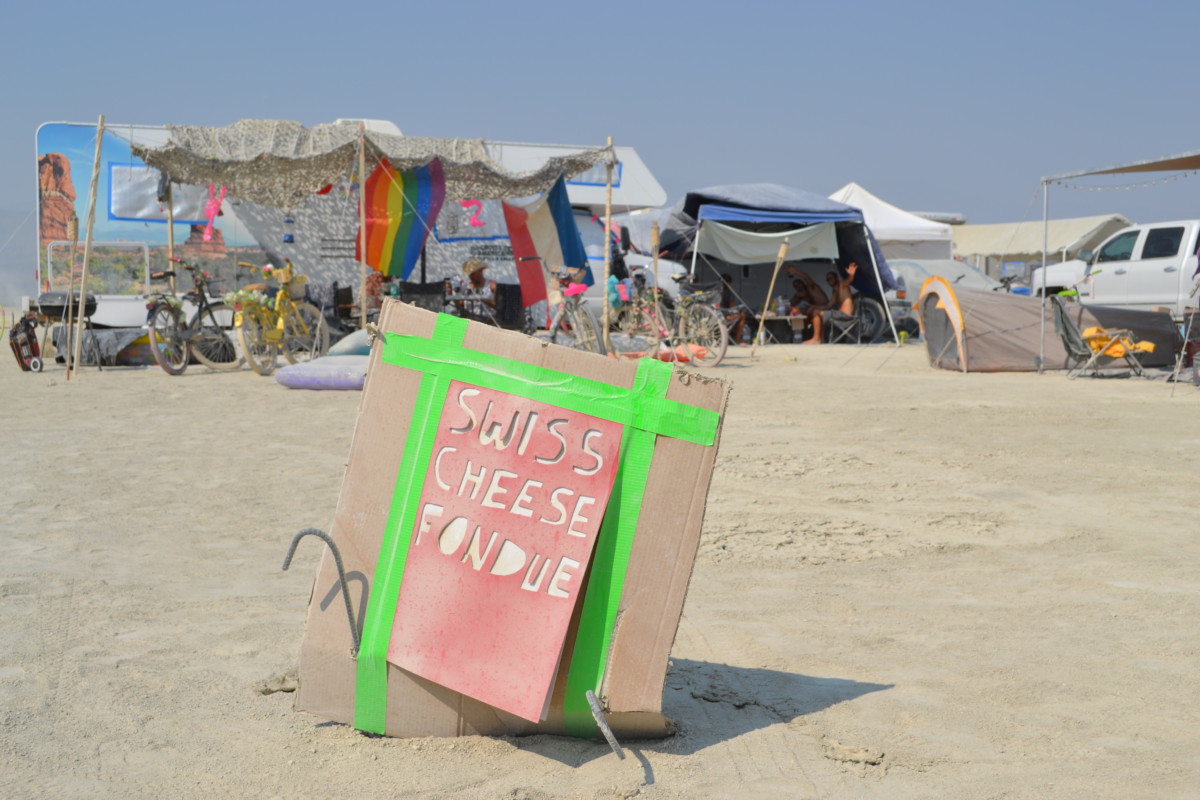 It is also the favorite place of innovators from the Silicon Valley.
This paradoxical location, between the communism and capitalism – a bit like the tech industry of California – attracts celebrities such as Elon Musk (Tesla), Mark Zuckerberg (Facebook), Larry Page (Google), and more (here is what they say about Burning Man).
Do you want to go there ?
Do you want to organise your company's trip here ?🙃
Are you ready to go out of your comfort zone ?
Do you agree with the Burning Man's principles ?
The coming back to reality will be harsh, are you ready for that ?
And… are you ready to hang out with troups of unicorns ?
Those are the first questions you should ask yourself. Secondly, the Burning Man is not free. To put your hands on a ticket is very difficult, and this one is quite expensive too. You can count between 425$ to 1200$ only for the entrance fee. Add to that the groceries, the car rental and other expenses (airplane, before and after event accommodation…)
To go there, it is better if you know how to speak English. The majority of the participants come from all around the US and their mother tongue is English. Moreover, to get more information you can go on their webpage Burningman.org. Another alternative form French speakers is this website french burners .
We could think that the Burning Man is a self-sustaining culture, yet this Burning Man mindset is part of the companies in Silicon Valley.
The question is : is Silicon Valley who influences the Burning Man or is it the opposite ?
With what we saw, we truly believe that the real influencer there is the Burning Man, which has an impact on this cultural innovation mindset found at the Silicon Valley.
Visit in San Francisco
After this creativity pilgrimage in the Nevada desert, we decided to visit San Fransisco. More specifically, we were giving a conference on our book " faire " at Swissnex San Francisco and meet the team of French Tech Hub. Furthermore, we had the chance to visit the coworking space and go around the Worshop Cafe, a cafe-office which you pay 2-3$/hour to stay.
"Sedat paid us an inspirational visit at swissnex San Francisco, sharing some valuable experiences and inputs, and provoking us to think unconventionally about our Living Lab. Clearly, Sedat's out-of-the-box thinking pre-dates his Burning Man journey. He struck me as one of those people who see issues, waste no time analyzing and understanding them, to then tackle them with ingenuity, creativity and the necessary "souplesse". Sedat's presentation to our team and the ensuing lunch chat provided us some fresh perspective and valuable food for thought. Now I'm looking forward to reading your book in its entirety and starting to implement some of the exercises and methodologies described! Thanks, Sedat!"
Gioia Deucher, CEO, Swissnex San Franscico