What is the common point between a gangster and an entrepreneur ?

How do you learn to innovate from a pirate ?
Those are the answers you will discover through reading the book "The Misfit Economy", by Alexa Clay & Kyra Maya Phillips. This extraordinary and enriching work analyses the entrepreneur spirit and the creativity in the underground economy. The goal is to compare this economy to the one in our legal system.
The Book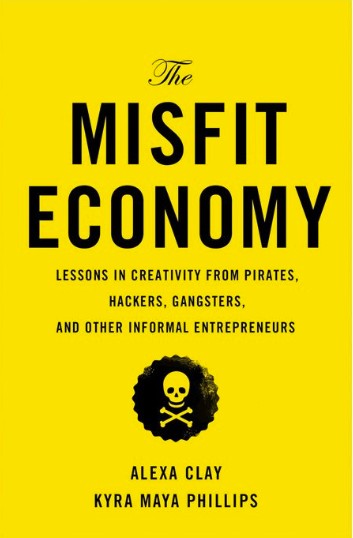 Throughout the Misfit Economy, you will explore all the surprising angles from which the dark and normal market have resemblances. Thanks to the authors, you will realise that this world of gangsters has its methods to innovate and create, from which there is a lot to learn. Indeed, those organisations need to have a good structure and be well organised, in order to grow. The aim here is of course not to trivialise the bad and illegal behaviors, yet rather to understant that the way the crooks operate in their organisations is as innovative and structured (sometimes even more) as legal companies. This means we have things to learn from this topic, in order to apply it in rightful ways.
In their book, or during their interventions, Clay & Phillips describe different types of swindlers found in the clandestine economy. Mainly, you will perceive those 5 categories:
Hustle: generally speaking, this person wants to create new opportunities. In other words, they do not wait for things to come to them, but rather to take the matter into their own hands. They do not hesitate to get dirty, to be hard working, or to get started no matter what.
Copy : those people are great at creating perfect replicas of products. Usually, they manage to make the same version as the original, but in a much more affordable price. Here, the authors give the exemple of the pharmaceutic. More precisely, they explain how some outlaw engineers in India were able to copy an existing medecine, making it accessible to all the people in their country. The pharmaceutical company then had to find a way to align with the price of their illegal competitors, in order to still sell. As you can see, those mobsters were part of the evolution of a product, by finding a way to reduce its cost, or by breaking a monopoly.
Hack: this person believes in free-trade and has a great capacity of adaptation and analysis. This means he is good at defining the vulnerabilities in a system. This helps improving the things you do on many level, as well as eliminate your weaknesses. Moreover, the pirate learns to understand deeply his ennemy, which in a legitimate business contest would be the competitors.
Provoke : this thug plays with people's emotions and desires, or stimulates the ones who need it. To make it simple, he tries to find alternatives of what already exists and push for transformation. This means he is particularly good when it comes to gather people to help him attein his goal. Within a company, a person like him will create an heterogeneous network, favorable to projects development. He will probably be well organised and able to plan great Brainstorming sessions.
Pivote : that's the type of criminals that can shake the trees and make things go differently. In other words, he is a good innovator regarding internal changes. He is brave, do not hesitate go on a new path, to change identity, or to spend his energy on projects bigger than himself. For exemple, the Latin Kings gang in the USA has had one of his leaders trying to ameliorate things. In other words, he has decided to change this illegal business into a civic rights organisation. Although not everyone was agreeing with his vision, he did not mind and did all he could to work on his aim.
After having read more about those 5 categories, you probably understand the potential that can be found in those gangsters. As previously mentionned, the aim of this book is to bring out this capacity to create and innovate that those people have in them. It means that with faith and will, it is possible to change things and make honest people out of those crooks. This could be a real boost for our society, allowing it to evolve and for us to reinvent ourselves.
5 Categories of Gangsters, 1 Exercice
In some previous articles, we talked about the methods of the 3 Disney Chairs and the 6 Hats of Bono. But why are we mentioning them here ? The answer is quite simple : to make a practical exercice out of those categories ! You might remember that the Bono and Disney approaches define a certain number of distinct personnalities. Those allow you to analyse an idea / solution from different angles. This means that you can definitely switch the archetypes in those methods, and replace them by the 5 different ones from this book !
More About the Book: The Misfit Economy
If The Misfit Economy seems inspiring and you wish to buy it, you will easily find it online, on some platforms such as amazon. Mme Clay & Mme Phillips were able to create a book easy to read and enriching. If you do not like reading so much, you can find some conferences with the authors as speakers.