With the Crazy 8's, you will let your imagination run wild! This method aims to encourage creativity by asking you to imagine several solutions to a problem in a very short time.
3, 2, 1, go!
8 concepts, 8 minutes
The Crazy 8's is a method related to design thinking and design sprint. This method can be used in design thinking during the third phase, the ideation phase. The ideation phase is when you look for solutions to solve your problems. Remember, the more precise the problem, the more relevant the ideation phase will be.
The Crazy 8's will allow you to develop a maximum of potential solutions in a very short time. Each participant will have to imagine and draw the sketches of 8 concepts that potentially solve the problem, all in 8 minutes. One minute to find a solution may seem extremely short (especially when you have to do it 8 times in a row).
We can promise you that you won't have 8 good ideas! But that's fine, the goal here is to get some off-the-wall ideas, from which you may come up with a useful concept (or not).
After 3 sketches you won't know what to invent, so maybe you'll draw Roger Federer selling your product in Neuchâtel station… And if finally offering your product in train stations was a good idea?
For once, choose quantity over quality.
Making a success of your Crazy 8's
The material is very simple,
An A4 sheet of paper
A pencil
An eraser
Colored pencils
For a successful exercise, it is imperative that each participant feels free to express his ideas. Therefore, avoid at all costs that the team leader leads the exercise! Forget the hierarchical relationships during the exercise, the results will be even better.
Time it for 8 times 1 minute and you will see if something interesting comes out of it.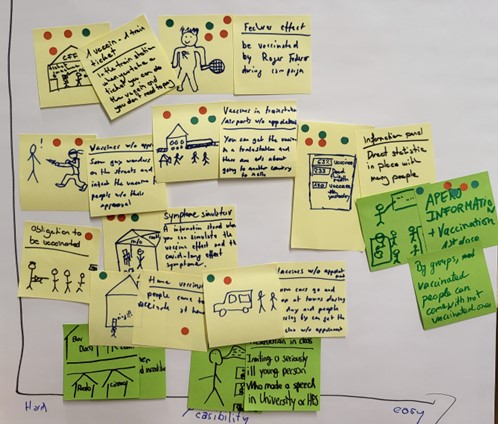 At the end of the exercise, collect all the sheets. Each participant votes for his or her 3 favorite ideas out of all the concepts. Then, agree on which ones to work on in more depth. Be careful, the ones that win the most votes are not necessarily the best. When you want to innovate, a divisive concept can be very interesting…
Think2make is an innovation facilitator and can accompany you throughout your innovation project by offering training and workshops.